September 24, 2019 – Garvin USB Pop-up Floor box recalled due to Fire Hazard. The electrical receptacles can overheat when in use, posing a fire hazard.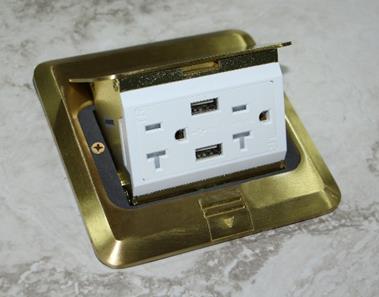 Product Description: Garvin USB pop-up floor box kit with a finish of either stainless steel (Garvin part number FBCVSS-U-KIT), or brushed brass (Garvin part number FBCVBR-U-KIT). Each includes two electrical receptacles and two USB ports. The pop-up electrical outlet boxes are designed to be installed into floors with a metal lid that opens and closes to reveal the electrical receptacles and USB ports.
Hazard Identified: There is a potential for arcing between the energized load carrying conductors and the inside of the metal cover, which can lead to overheating and a potential fire hazard. As of September 24th, 2019, the company has received no reports of incidents in Canada, and no reports of injuries.
Number Sold: Approximately 10 units of the affected product were sold in Canada.
Time Period Sold: The affected products were sold from January, 2016 to August, 2018.
Place of Origin: Manufactured in China
Companies:
Distributor
Southwire Company, LLC
Carrollton, Georgia
UNITED STATES
Importer
Garvin Industries
Franklin Park, Illinois
UNITED STATES
What You Should Do: Consumers should immediately unplug any electrical devices from the recalled electrical outlet boxes, discontinue their use and contact Southwire for a full refund.
Consumers should visit the company's recall page, the web page explains the recall process. They can register their recalled product on the web page. They may also contact Southwire toll-free at 1-888-803-0492 Monday through Friday from 7 a.m. to 6 p.m. Central Time.
Please note that the Canada Consumer Product Safety Act prohibits recalled products from being redistributed, sold or even given away in Canada.
Health Canada would like to remind Canadians to report any health or safety incidents related to the use of this product or any other consumer product or cosmetic by filling out the Consumer Product Incident Report Form.
This recall is also posted on the OECD Global Portal on Product Recalls website. You can visit this site for more information on other international consumer product recalls.
Click HERE to view Health Canada Product Safety Alert.